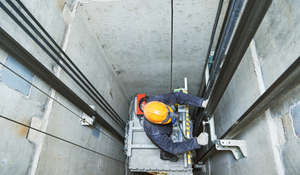 At Sonim we pride ourselves on creating the industry's most ultra-rugged devices built to withstand Sonim's 12 benchmarks of endurance and durability known as Sonim's Rugged Performance Standards. Sonim customer, AB Courier, recently encountered a situation where these Rugged Performance Standards were put to the test:
On Nov 29th, a courier driver was attending a location in Scarborough, Ontario Area to complete a delivery to an office tower. The driver entered the building, went up to the 10th floor, and successfully completed the delivery. When the driver was returning to the elevator to descend to the ground floor from the 10th floor, they accidentally dropped their Sonim XP8 directly over the floor/elevator threshold and the phone descended inside the elevator shaft to the bottom of the shaft in the basement.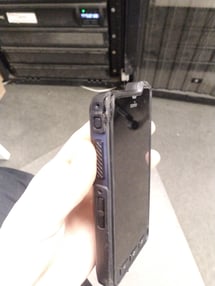 The Driver reached out to the building management who called the elevator tech, who then retrieved the Sonim phone from the bottom of the concrete shaft. Tech advised that phone was lying on concrete when it was located.
When the phone was returned to the driver, with a few minor blemishes, the driver found that the device was fully operational and was able to remain in the courier fleet. As of today, this device is still operating without any issues reported by the driver.
Impact Tested at Every Angle
Unlike consumer devices which are designed to be as light and thin as possible, and therefore fragile, ultra-rugged devices are specifically engineered to withstand the rigors of extreme environments. Sonim testers drop the device from a minimum height of 6 feet on each of its 6 faces, 12 edges and 8 corners, for a total of 26 drops. This test ensures that all possible points of impact are tested. Additionally, while most rugged-phone providers drop test at 4 feet to plywood over concrete, Sonim tests at 6 feet directly to concrete, which is more than twice the impact force.
Many vendors claim to have "rugged" devices with MIL-STD-810G ratings, but they're often doing little more than adding a thicker case and/or bumpers on the corners to make the device look rugged. It's important to note that there is no outside auditor for the MIL-STD-810G testing, leaving vendors to self-test their own products. This leeway results in the testing differences outlined above, making it crucial that you follow up on MIL-STD-810G claims to ensure devices were rigorously tested.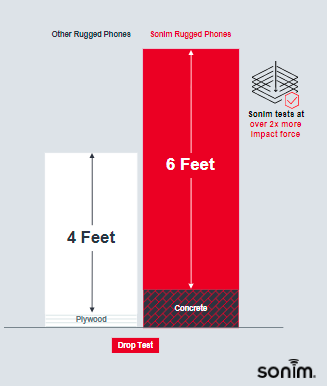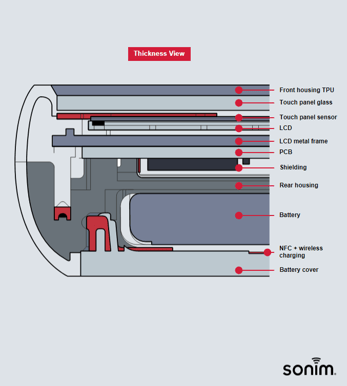 More Customer Success Stories
"We recently had a tourist fish out a Sonim device lost on a JetSki patrol in mid 2019. We dried the device off and turned it on to find it fully functioning after a year of being underwater."​
Director of Beach Safety and EMS
"If you have the need for a purpose-​
built device like this, it is a much better option then trying to take a device ​
not designed for austere environments and putting a case on it."​
Director of Innovative Practice and EMS
"It's important for the phones to work due to the need of communication between employees, job foreman, office, supply houses etc. When the communication stops, it costs us money. I will attest to the fact that in the six months we have had these devices, I have not received a single call from our employees regarding a phone problem. That is huge to our company. If I could give it 100 stars I would."
Office Manager
Contact sales@sonimtech.com if you have any questions regarding Sonim devices or where to purchase.