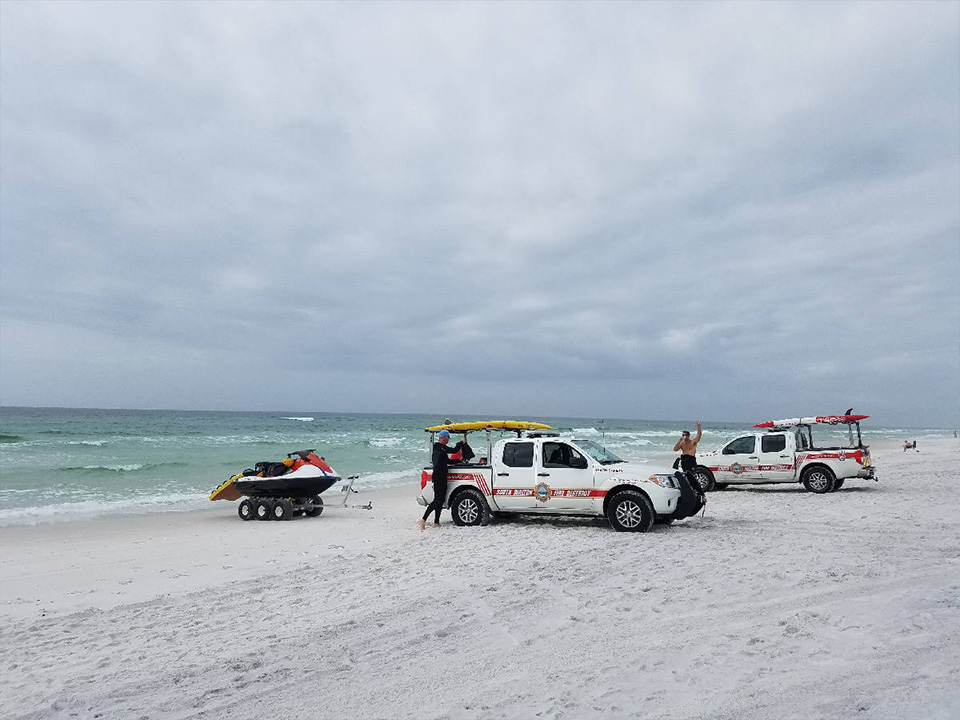 The Company
The South Walton Fire District's Beach Safety Division has been a Sonim customer since 2019. The Beach Safety division was established in 2006 and services 11 Public Regional Beach Accesses across 26 miles of beach in Walton County, Florida. Currently, the Beach Safety Team consists of nine full-time command staff and 65 – 80 seasonal staff. In addition to Emergency Medical Services, the South Walton Beach Safety Division is constantly monitoring the water conditions and weather forecast to provide the most accurate and timely water and surf information possible.
The Challenge
In a dynamic outdoor environment, it's crucial that lifeguards have reliable and durable communication. David Vaughan, South Walton Fire District's Beach Safety Director, had repeatedly seen significant equipment failure in the saltwater environment that his team consistently operates in.
"Every other phone we had previously tried would go down within months of the first seasons use," said Vaughan. "This was a major issue when it came to communication operations. We not only needed to find a lifeguard proof phone, but we also needed technological capabilities to gather and analyze data and provide real time communications with sophistication."
As the EMS provider for South Walton County, the Beach Safety Division was also seeking a smart phone with EMS related GPS mapping that allowed them to effectively respond to emergencies in a timely manner; Push-to-Talk reliability; and volume and alert features for rescue and EMS incidents.
The Solution
After speaking with an AT&T representative and conducting research on Sonim products across multiple departments, the Beach Safety Division decided on the Sonim XP8. "The XP8s have performed consistently for two full seasons," said Vaughan. "The phones take a beating daily and have performed very well overall. We like most that they are still in service and have made equipment warranty issues and replacement devices a secondary in-season concern. We recently had a tourist fish out a Sonim device lost on a JetSki patrol in mid 2019. We dried the device off and turned it on to find it fully functioning after a year of being underwater."
The Sonim XP8 is built with industry-leading Rugged Performance Standards in mind. It's waterproof, has a military 810G rating, Non-Incendive Class I, II, III, and Div 2 ratings, and can cancel background noise with 100dB+ speakers making it the perfect rugged device for lifesaving situations and outdoor conditions.
Dedicated OneTouch Push-to-Talk capabilities included with every XP8 is a necessary feature for quick emergency communication. The ability to power remote speaker microphones without additional batteries is also a crucial feature for the public safety industry. Large, tactile, and intuitive PTT, SOS, volume buttons, and controls make communication easy and error-free.
In addition to providing lifeguards with the durability and connectivity necessary to do their jobs, the XP8 can be paired with SCOUT, Sonim's proprietary device-provisioning and management application that is included in each XP8, to allow lieutenants and officers to manage and control their team's devices more efficiently. Sonim also partners with an assortment of worker productivity focused applications that make it simple for teams to get the most out of the device.
The Benefits
By providing a durable and feature-rich smartphone solution, the XP8 increased the Beach Safety Division's productivity and helped them continue to focus on the safety of beach goers. "We are very, very pleased with our Sonim experience thus far," said Vaughan. "The removable batteries, available repair components, and warranty are really crucial. We consistently try to gear up our crews with tools that help them excel and Sonim has just quietly become part of that culture."
Sonim understands that serving, protecting, and providing for others demands a smart device you can rely on. Backed by our comprehensive 3-year warranty, the XP8 is the ultra-reliable, ultra-rugged smartphone that's built to provide those who serve with the smart communication they need, regardless of situation or environment.
Contact a Sonim representative today to learn how you can equip your team with an XP8.