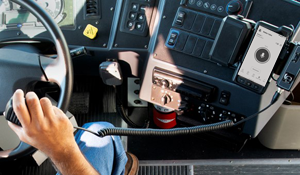 The Walkie Talkie app in Microsoft Teams now supports the Sonim XP8 rugged smartphone. The XP8 combined with Walkie Talkie in Teams is a powerful solution for frontline workers and employees who run day-to-day operations inside companies. The digital push-to-talk solution enables clear, instant, and secure voice communication over the cloud. Unlike analog devices, the XP8 prevents frontline workers from worrying about frequency static, crosstalk, or eavesdropping from outsiders.

Walkie Talkie in Teams on the XP8 works over Wi-Fi or cellular data, letting employees connect across the enterprise, including employees in the field or those located in different geographic locations. The easily accessible and programmable push-to-talk buttons and the glove/wet finger operable screen on the XP8 make using the Walkie Talkie feature simple and efficient.
Below are three easy steps needed to manually assign the Teams app to the push-to-talk button on the XP8:
Step #1 – Go to settings: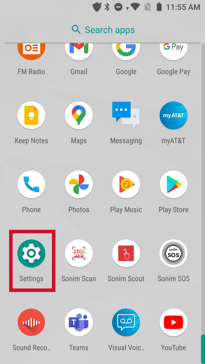 Step #2 – Go to programmable keys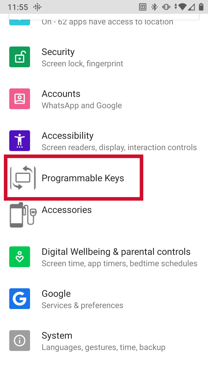 Step #3 – Open "Select PTT Key app and choose Teams app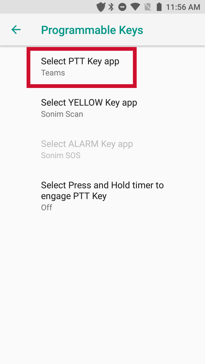 Click here to learn how to add Walkie Talkie to your Microsoft Teams app list.
Click here to get started with Team's Walkie Talkie.
Unlike standard consumer devices and most rugged devices, Sonim's XP8 is equipped with a SecureAudio connector, meaning wired audio accessories thumb screw into the XP8 ensuring the most reliable connectivity possible. This approach prevents the accessory from being accidentally disconnected, common with a standard 3.5mm jack. Sonim's SecureAudio interface also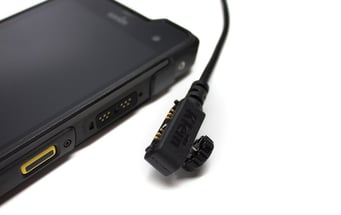 provides power to audio accessories, so users don't need to worry about powering phones and powering accessories. This allows headsets and speaker microphones to provide louder audio quality than with other smartphones. Even when used without audio accessories, Sonim XP8 has loud and clear, dual front-facing 100dB+ loud speakers, and 3 microphone noise cancellation solution, to ensure operation even in very noisy operation.
"Frontline workers in many industries have been pushed to their limits as the result of the pandemic and are in need of technology that reduces friction by saving time, providing reliable communications and improving productivity," said John Graff, Sonim Chief Marketing Officer. "Walkie Talkie in Teams on the Sonim XP8 meets this challenge by combining all of these capabilities onto one ultra-rugged device that connects users instantly with the push of a button."
This new solution will be generally available starting in April for enterprises to deploy to frontline workers in manufacturing, healthcare, retail, logistics, and more. Click here to learn more about Microsoft Teams' Walkie Talkie.