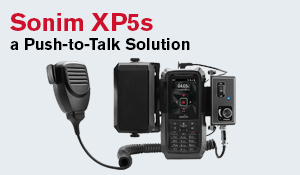 Historically, radio systems, such as land mobile radio (LMR), have been a cornerstone of mobile critical communications, particularly in industries like public safety and transportation as well as construction, hospitality, retail and more. The simplicity and reliability of instant Push-to-Talk (PTT) communications with radios (both LMRs and walkie-talkies) are considered essential for critical communications especially when involved in a dangerous or high-pressure situation where dependable ease of use is a top priority.
However, with the tremendous advances in cellular communications and low-cost devices with multi-faceted capabilities, moving beyond a simple verbal exchange can be just as important during emergency and/or business critical situations.
Interoperability, price, application support, and accessory support are some of the key reasons why using the Sonim XP5s rugged phone as a PTT over Cellular (PTToC) solution is a great replacement, or addition to your existing radio solution.
Interoperability
The interoperability provided by a rugged handset with PTToC capabilities, like the Sonim XP5s extends the communication opportunities that are inherently limited by a LMR network, allowing for a more effective response.
Utilizing Sonim's powerful XP5s handset as a PTToC solution enables users to communicate and connect with other WiFi and Bluetooth enabled devices, such as body cameras and wireless headsets to send and receive information. These devices natively provide location information and can also receive images and video feeds, providing improved situational awareness.
Price
One of the newest users of Sonim Technologies' solutions is a global leader in energy and environmental technologies and services for the power and industrial markets. This organization is referenced as "Company X" in the example below.
In giving our technology a chance, Company X performed a cost comparison of the Sonim XP5s and Sonim XP8 to their current solution of using rented LMR units. Their analysis shows a direct and material impact to their average deployed devices of almost $2,600 per communication device.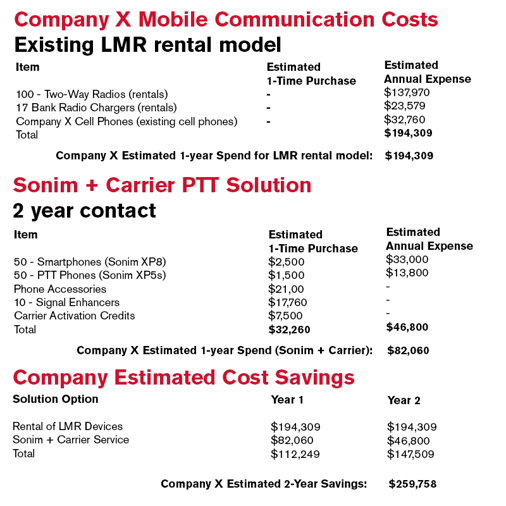 Ultra Rugged Capabilities
Like all Sonim devices, the Sonim XP5s is tested with industry-leading Rugged Performance Standards in mind and is military rated for its durability. All of Sonim's ultra-rugged devices, including the XP5s, can be aggressively cleaned and
disinfected. This includes being fully submerged or cleaned with a variety of different cleaning products from simple soap and water to heavy duty cleansers and disinfectants, such as bleach and isopropyl alcohol.
Sonim devices are also backed by a 3-year comprehensive warranty. Other device manufacturers recommend "gently" cleaning or caution you to avoid using aerosol sprays, antibacterial products, bleaches and other cleaners directly on the device or risk voiding their warranty. This is not necessary with a Sonim device. With Sonim's ultra-rugged devices, you can clean away without worry that you'll ruin your device or lose your warranty.
For more information on Sonim's Rugged Performance Standards and the total cost of ownership for rugged devices vs standard consumer devices, download the Ultimate Guide to Understanding Ultra-Rugged.
Application Support
Sonim partners with an assortment of innovative Push to Talk applications that enhance the PTT experience on our handsets. The following applications provide solutions that make utilizing PTToC an easy and productive experience:
The Enterprise Secure Chat (ESChat) product suite includes encrypted Push-To-Talk, secure group messaging and location tracking and mapping. ESChat also supports a Radio over Internet Protocol (RoIP) interface that allows it to be interfaced to first responder dispatch and Land Mobile Radio (LMR) networks providing a seamless and secure communication environment.
Zello provides the leading push-to-talk solution for increasing communication and collaboration in businesses with mobile workforces. Companies and organizations of all sizes use Zello's award-winning push-to-talk app on virtually any device and network to improve productivity and efficiency on and off-site. With instant voice communication, text messages, photo sharing, location tracking, emergency alerts, and more, mobile workforces use Zello to save time and money at the push of a button.
T.Flex is TASSTA's application designed for smartphones or tablets but also desktop computers. With T.Flex you can use MCPTT according to the 3GPP Standard in combination with Push to Video (PTV) and further features like Emergency alarm and Lone Worker Protection (LWP) solutions, Indoor localization plus GPS or organizing users with a Task Manager.
TOTR is utilized best to track, audit and communicate with field teams, crisis management, digitalize paper-based processes and facilitate real-time communication and collaboration among all the staff. Team on the run replaces insecure public communications tools, thereby clearly separating private from business communication and preventing data and information leakage while keeping the ease-of-use and efficiency of a messenger app.
The Kodiak PTT platform enables high-performance and feature-rich instant communications. The Kodiak powered-PTT solution delivers a rich ecosystem of PTT-enabled devices, can be integrated with third-party applications, interoperates with two-way radio systems, and supports a wide scope of accessories to meet the diverse needs of customers.
For a full list of partner applications visit Applications > Sonim Technologies.
Providing workers with the proper tools to do their job safely is critical to the success of any organization. Now with Sonim SOS, a SonimWare application, you can give them one of the best safety tools available on a mobile device. With the press of button, Sonim SOS sends instant messages and location data to emergency contacts, making it faster and easier to request help. And because you can't put a price on worker safety, Sonim SOS provides this additional level of security at no cost on the Sonim XP3, XP5s and XP8.
Accessory Support
Sonim's accessory partners provide top of the line products that work together with Sonim's PTT enabled devices to provide a seamless experience. A real-life example of Sonim's accessory support and the interoperability of the XP5s can be seen in this testimonial from GPSLockbox:
GPSLockbox and FirstNet outfitted Carroll County's 311 buses with AT&T Enhanced Push-to-Talk (ePTT), allowing for secure, real-time group communication over the nationwide 4G network, as well as Sonim XP5s ruggedized feature phones for contractors and Sonim XP8 ruggedized Android phones for transportation supervisors. The Sonim XP5s, for onboard use, were installed on mounting kits provided by GPSLockbox. The GPSLockbox system secures the Sonim device, allowing for convenient locking and unlocking and handsfree operation. The mounting system's built-in amplifier and speaker allows for cleaner communications than a cell phone, and the attached palm microphone is ergonomically very similar to a traditional driver's mic. Read the full testimonial here.
In addition to supreme functionality, Sonim compatible accessories include cutting edge technology like that provided by Stone Mountain's Epic RSM Series with ProClearTM Digital Signal Processing (DSP) noise cancellation. The Epic RSM Series is compatible with the Sonim XP8 and XP5s rugged phones and when combined with a PTT-over-Cellular service, provide DSP noise cancellation for clear audio even in the noisiest environments. View the technology in action in this comparative testing video.
Shop all Sonim accessories here.
Why the Sonim XP5s?
Although Sonim has other Push to Talk enabled devices, like the rugged XP8 smartphone, the XP5s can be a great, simplified solution for those not needing all of the capabilities of a smartphone. In instances where quick voice communication is the main goal it can be helpful, and often safer, to use a device with less distracting features.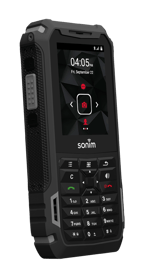 The size and form of the XP5s can be a deciding factor for those looking for a device that feels similar to a radio. At roughly 5.5" in height, the device is easy to hold and mount in vehicles or on belt clips. Fumble-free, large, tactile, and intuitive PTT, SOS, and volume buttons and controls located on the sides of the XP5s make quick communication easy and efficient. In addition to the easy to access buttons and controls, the device features ultra-loud speakers and a Secure Audio Connector that prevents audio transmission issues and keeps your audio accessories securely in place when on the job.
If you have any questions regarding the rugged XP5s as a PTToC solution or you would like to purchase the device as a replacement, or addition to your existing radio solution, contact a Sonim representative or your network provider for more information.
Additional XP5s Resources:
Video: Sonim XP5s Ultra-Rugged Mobile Device