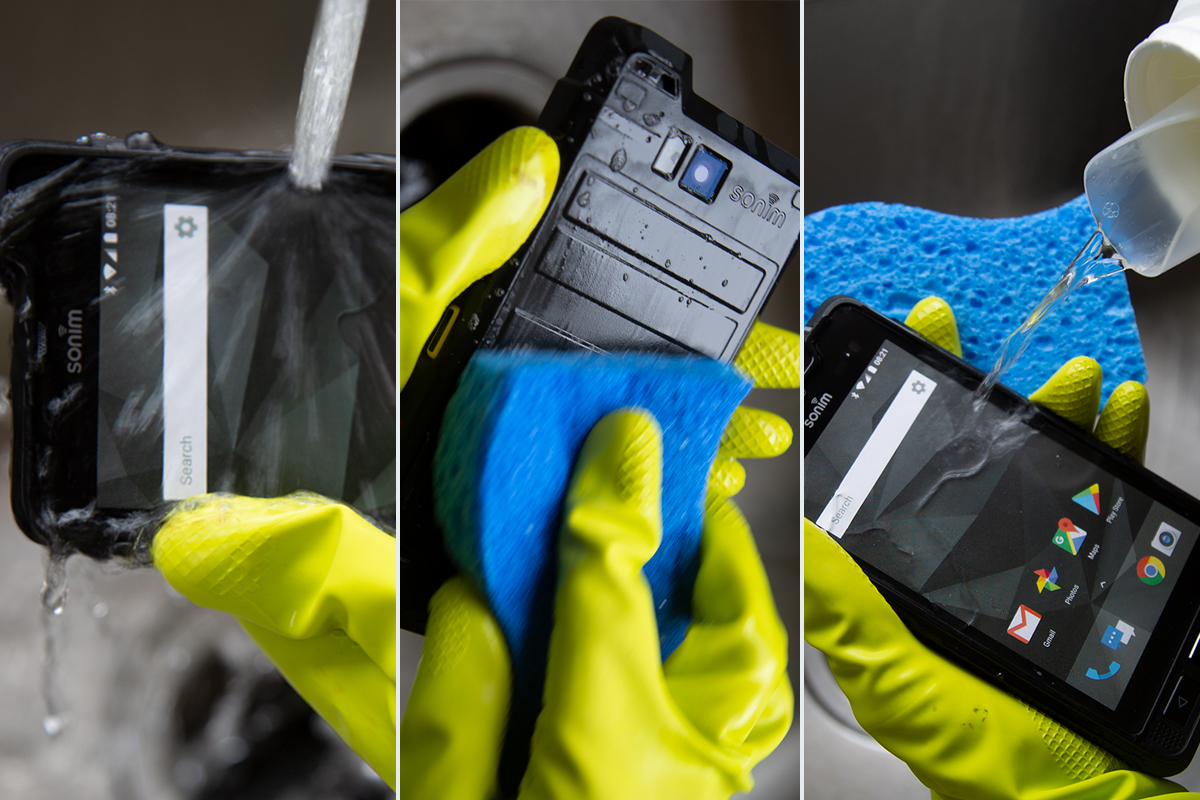 Mission critical situations require smart communication, data collection, sharing, and connectivity more than ever before. For those working in extreme conditions or demanding environments, no ordinary smartphone will do. The
Sonim XP8
is the ultra-reliable, ultra-rugged smartphone that's built to provide those who serve in mission-critical roles with the smart communication they need, regardless of situation or environment. To fully understand why the XP8 is considered one of the most ultra-rugged smart phones in the industry, it's important to know the standards the XP8 and all Sonim mobile devices must meet.
Rugged Performance Standards
When we set out to build the most durable phones, we realized that there were no true standards outlining what defines an "ultra-rugged" mobile device. Many vendors would claim to have "rugged" devices, but often they would do little more than add a thicker case and/or bumpers on the corners to make it look rugged. Understanding that this was a critical missing element in our industry, we set out to create a set of standards all rugged devices must live up to. The result was 12 benchmarks of endurance and mobility known as the Sonim Rugged Performance Standards (RPS). Sonim's RPS are based on over ten years of feedback from customer usage in the world's most extreme environments. Every Sonim mobile device is designed and built with the following RPS in mind:
Drop and Impact Resistant
Many vendors will state "military-grade ruggedness" based on compliance with MIL-STD-810G. For drop tests this military standard requires a 26-point drop test ensuring that all possible points of impact on the device are checked. While most rugged-phone providers simply meet the MIL-STD-810G requirements and drop test from 4 foot to plywood over concrete, Sonim goes a step further by conducting drop tests at 6 feet directly to concrete, which is more than twice the impact force to the device.
It's important to note that there is no outside auditor for MIL-STD-810G testing. Vendors are left to self-test their own products and have leeway in doing so, so MIL-STD-810G claims should be followed up with questions to ensure devices are rigorously tested like the XP8.
Waterproof
The XP8's IP68 rating means it can be submerged in water, up to 6.5 ft for 30 minutes, and the IP69K rating indicates resistance to high temperature pressure washing.
"We recently had a tourist fish out a Sonim device lost on a Jet Ski patrol in mid 2019. We dried the device off and turned it on to find it fully functioning after a year of being underwater."
— David Vaughan, South Walton Fire District, Beach Safety Director
Resistant to Oil and Chemicals
Recent global events, including the COVID-19 virus, have resulted in many questions regarding "mobile hygiene" best practices. And, given USA Today's recent report that smartphones are seven times dirtier than a toilet, device cleanliness is top-of-mind for everyone. An important aspect of Sonim's RPS is our devices' resistance to chemicals, regardless if exposure happens accidentally in the field or intentionally through use of cleaning or disinfecting solutions.
An increasing number of consumer smartphones have evolved their IP rating to IP68, which means they can be submerged in water, primarily because consumer devices have removed almost all external connectors and have sealed the battery internally (which means it can't be replaced). Nevertheless, many of these consumer devices still have sensors that will detect if a device is submerged and if so, the warranty may be invalid or limited. Even further, it does not necessarily mean they can be submerged in a disinfectant like a Sonim smartphone can. The Sonim XP8 has IP68 AND IP69K ratings meaning it has the highest moisture protection, enabling the aggressive cleaning and disinfecting possible with our device and not other so called "rugged" devices.
Beyond our internal testing, many customers have successfully subjected their own Sonim devices to a number of other jaw-dropping tests that further prove the durability of our devices. Examples include:
A full immersion of the Sonim XP8 in hydrogen peroxide for one hour with no impact on operation.
A full immersion of the Sonim XP8 and XP5s in jet fuel, with the goal of seeing how many hours the devices would last.
The Sonim devices lasted several days, fully immersed and fully operational while competitive products only made it a few hours.
Running a Sonim device through a regular dishwasher cycle.
Batteries that last
As mentioned previously, most consumer smartphones have built-in batteries, which means users must replace the entire phone once the battery decays. Batteries are consumable devices with limited life spans, so they often will start seeing reduced performance after 12-18 months depending on the conditions that the device is exposed to. Sonim customers have told us repeatedly that they are looking for devices that will last 3-5 years. The XP8 contains a removeable, multi-shift battery providing all day power and ensuring that the lifespan of your phone is not limited to the lifespan of the battery.
Glove-Friendly Display
The 5" glove-friendly display featured on the XP8 was uniquely designed for ease of use with large or gloved hands allowing users to access programmable buttons and applications in any condition.
Extra-loud Audio
The ultra-rugged XP8 features noise-cancelling technology and front facing speakers with more than 100dB output allowing you to consistently hear and be heard on loud job sites. Most standard consumer phones have speakers that point down hampering volume and only produce around an 80 dB output.
Protection from Micro Particles
With an IP-6x rating the XP8 is completely dust proof and protected from hazardous microparticles making it the perfect ultra-rugged device for construction job sites, mining environments, or factories.
Resistant to Shocks and Vibrations
In addition to being drop-proof, the XP8 is durable enough to withstand sudden shocks of up to 30G and vibrations from 5Hz to 500Hz.
Operational in Extreme Temperatures
At Sonim we understand the harsh conditions many essential workers endure day in and day out. That's why we built the XP8 to be fully operational in temperatures ranging from -4° F to 131° F.
Pressure and Puncture Resistant
Sonim ensures glass durability by leveraging extremely shock-resistant and chemically-strengthened
Gorilla Glass on devices. Hardened rubber molded housing can withstand up to 4J of impact energy and up to a ton of metric pressure.
3-Year Warranty
Sonim sets the bar for how ultra-rugged mobile devices should perform and we back it up with a 3-year warranty. If during the warranty period the mobile phone has a defect in material or workmanship, Sonim, at its option, will either repair or replace it at no charge.
Additional XP8 Features
The XP8 is equipped with large, tactile, and intuitive PTT, SOS, volume buttons, and controls that make communication easy and error-free. Users can communicate more powerfully, more freely, and more securely with Handset Powered Audio Accessories connected through Sonim's SecureAudio Connector.
Ultra-Rugged and Ultra-Smart
At Sonim, we understand it takes more than just an ultra-rugged phone running Android to succeed in today's fast-paced world. Users need durability, but they also need the ability to manage and optimize their mobile ecosystem quickly and effectively. That's why we developed SonimWare, a comprehensive set of software tools, applications and utilities designed specifically for the needs of our customers that rely on Sonim devices.
SonimWare comes pre-loaded on the XP8 and offers solutions in several key areas, including device provisioning and deployment, remote application management and updates, enterprise security, productivity and safety tools, trouble shooting, diagnostics and tech support, as well as support for a variety of third-party applications. The comprehensive suite of software is designed to improve the productivity of both workers and management, making it an essential tool that delivers results throughout your organization.
The Sonim XP8 is more than just another rugged smartphone. It's where tough meets smart, agility meets security, cost meets value. Learn more about the Sonim XP8, or contact us today to learn how you can equip your team with the industry's most ultra-rugged and reliable smartphone.